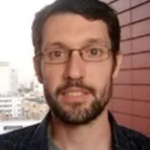 ALBERT ELDUQUE
Investigador postdoctoral
UNIVERSITY OF READING
Investigador postdoctoral en la University of Reading, donde forma parte del proyecto Towards an Intermedial History of Brazilian Cinema: Exploring Intermediality as a Historiographic Method (IntermIdia). Su investigación se centra en las representaciones de las tradiciones musicales brasileñas en el cine contemporáneo. Por otra parte, su tesis doctoral, Del hambre al vomito: Imágenes del consumo en el cine moderno (UPF, 2014), analizó los conceptos del hambre, el consumo i el vómito en el cine moderno europeo i brasileño. Ha escrito artículos y capítulos de libro sobre cineastas como Werner Herzog, Pier Paolo Pasolini, Marco Ferreri, Joaquim Pedro de Andrade y Jorge Silva y Marta Rodríguez. Es coeditor de la revista Cinema Comparat/ive Cinema.
Líneas de investigación:
Cine brasileño.
Intermedialidad y cine.
Tradiciones del documental musical.
Cine político moderno.